Singapore, October 2017 - Prior to embarking on a trip, travelers may miss out on or fail to obtain important information that would otherwise let them travel hassle-free. Insufficient pre-travel preparations, especially when flying to international destinations can lead to frustration.
Besides planning and booking the trip, one must adhere to country-specific travel requirements from visas to vaccinations, be familiar with customs regulations, as well as ensure passport validity. TravelerBuddy, your digital travel assistant, supports you in all of the above. It also allows you to check your pre-travel requirements online via this link: www.travelerbuddy.com/pre-travel-check
TravelerBuddy simplifies travel in 12 ways: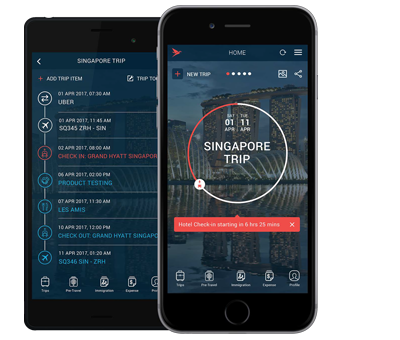 Checks for travel requirements before you travel
Auto-generates itineraries from forwarded travel booking confirmation emails
Supports online check-in for over 400 airlines
Sends real-time flight alerts and gate change notifications
Easily manages travel expenses with automatically generated expense report, CSV data file and receipts converted to PDF
Offers immigration card assistance for filling up of departure and arrival cards
Securely stores various personal details such as passport in addition to being password protected
Synchronizes trip items with users' agenda
Enables manual editing of trips and adding of notes, pictures and documents
Allows offline access to trip-specific information and to documents stored in the app
Provides map access on trip cards to locate addresses, give directions and book taxis
The TravelerBuddy app for iOS and Android is available for download in the app stores and also accessible via web. There are three different free-trial memberships available with various features based on your travel profile.